YouTube star, Logan Paul, has prompted outrage after he posted a video which showed the body of an apparent suicide victim in Japan. The video showed Paul and friends at the Aokigahara forest at the base of Mount Fuji; which is known to be a frequent site of suicides.
The video was uploaded on Sunday and had millions of views on YouTube before it was taken down.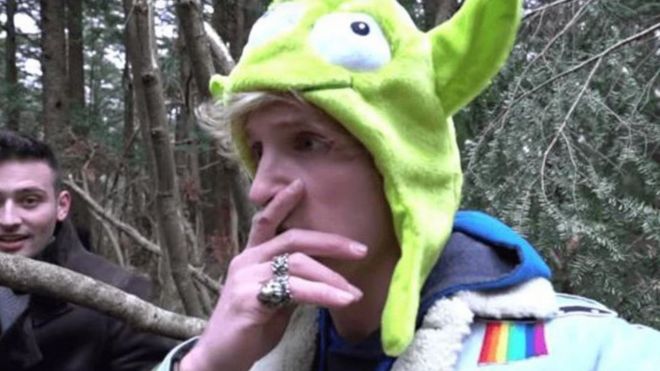 This from The Guardian
The 22-year-old American, who has 15 million subscribers on YouTube, was labelled "disrespectful" and "disgusting" after he joked with his friends about discovering the body in Aokigahara forest, a notorious suicide spot at the base of Mount Fuji.

The video, which Paul posted on Sunday, received millions of views before it was removed.

Paul and his friends, who are filming from various locations in Japan, reportedly came across the body moments after entering the ancient forest. Their video showed the body of a man, whose identity is unknown, from several angles but blurs his face.

A member of the group is heard remarking that he "doesn't feel good". Paul replies: "What, you never stand next to a dead guy?" and then laughs.

The exchange, and the decision to upload images of the victim, prompted a wave of criticism online.

The Breaking Bad actor Aaron Paul wrote on Twitter:

"How dare you! You disgust me. I can't believe that so many young people look up to you.
So sad. Hopefully, this latest video woke them up. You are pure trash. Plain and simple. Suicide is not a joke. Go rot in hell."

Others called on YouTube to take action.

Fellow YouTube star Kandee Johnson said: "Dear @youtube, after the Logan Paul video where he shows a dead body of a suicide victim, uses that for the title, makes heartless jokes next to the body, there needs to b age restrictions for certain creators. How is this allowed on YT? His followers are children! Horrifying."

Another Twitter user claimed that Paul "knew what he was doing. He's not 'sorry'. He disrespected that suicide victim, people with mental illnesses and Japan. Japan has one of the highest suicide rates in the world. He knew what he was doing and I'm disgusted."

Aokigahara has gained worldwide notoriety as a suicide spot, with a record 105 bodies reportedly discovered there in 2003. Local police have stopped releasing the number of annual deaths in an attempt to reduce the area's association with suicide.

The forest's hiking trails are dotted with signs urging those with suicidal thoughts to consider their families and contact a suicide prevention group.

The number of Japanese who kill themselves has fallen in recent years, although the country still has the sixth highest suicide rate in the world.

The number of people who took their own lives dropped to 21,897 in 2016 – the lowest level in 22 years – according to government figures.

The number rose in the late 1990s and remained just above 30,000 for more than 10 years – a rate experts partly attributed to financial pressures caused by the collapse of the bubble economy and the end of lifetime employment.

The lack of services for people suffering from mental health problems, as well as debt and serious illness – particularly among the elderly – have also been cited as common causes of suicide in Japan.

The figure has remained below 30,000 since 2012.

Paul later apologized to his 3.9 million followers on Twitter: "Where do I begin … Let's start with this – I'm sorry," he said.

Dear Internet, pic.twitter.com/42OCDBhiWg

— Logan Paul (@LoganPaul) January 2, 2018

"This is a first for me. I've never faced criticism like this before, because I've never made a mistake like this before. I'm surrounded by good people and believe I make good decisions, but I'm still a human being. I can be wrong.

"I didn't do it for views. I get views. I did it because I thought I could make a positive ripple on the internet, not cause a monsoon of negativity. That's never the intention. I intended to raise awareness for suicide and suicide prevention."

In the UK, Samaritans can be contacted on 116 123. In the US, the National Suicide Prevention Lifeline is 1-800-273-8255. In Australia, the crisis support service Lifeline is 13 11 14. Other international suicide helplines can be found at www.befrienders.org.